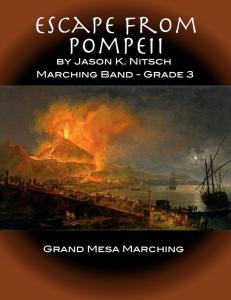 Escape from Pompeii
N/A
Sample Score 1
Sample Score 2
Sample Score 3
The power and fire of the Pompeii volcano explodes in this exciting production from composer, Jason K. Nitsch. Exciting percussion and dissonant chords make a dramatic statement in this sure-fire winner!
Item will be delivered via .PDF download link to customer email address on order. The customer will also receive a link to a folder that contains all digital sound effects. The shows are typically available for immediate delivery from the publisher, regional exclusivity rules will apply. A contact name and email address are required when placing the order. Sound FX, when available, are included with download, as well as proof of licensure.
This is a Grand Mesa Marching Band Product. All GMMB products include the following features: Regional Protection (some limits apply), Licensing and Copyright Permissions, Solos Transcribed for All Instruments, parts for 3, 4, and 5 BD, MP3s and Pyware sync tracks, Basic Phrase and General Effect Guides, and sound FX.

Full show is $1,000.00
Each individual movement is $350.00