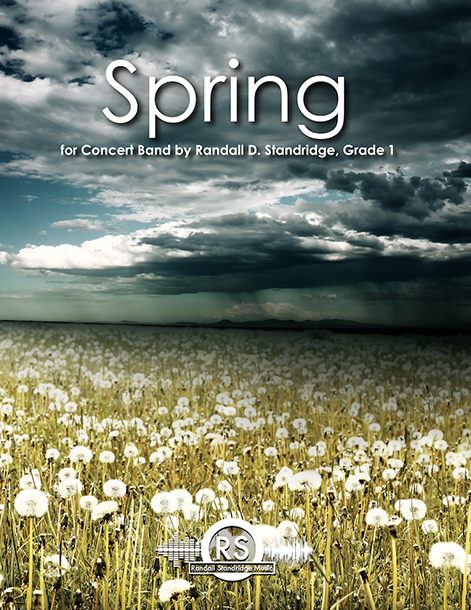 Spring
About Spring
I love the seasons. I love the way they mark our lives and provide different context and emotions throughout the year.
Spring, to me, is a season of new beginnings and rebirth. Today is March 14, 2021, and I feel a sense of renewed hope and optimism, as our world finds its way out of the darkness of the previous year.
This works also represents a challenge I wanted to undertake, that of writing a work that strictly used six pitches (typically the first six pitches beginning students are taught) and creating something expressive, artistic, and colorful. My hope is that this work will serve as a vehicle for developing musicians to explore dynamic range, phrasing, and independence without the burden of extended range.
Peace, Love, and Music
Educational goals of the work:
-Linear independence
-Tone production and proper note length
-Slurs and Phrasing
-This work uses the first 6 notes that are typically taught to developing band students, but the independence of the lines and orchestration provide additional artistic challenges.
-Note that optional parts are included for Clarinet and Alto Saxophone to double/strengthen the Horn/Tenor Sax Line, should it be needed.
Digital: $50.00
Physical: $50.00
SPECIAL SALE! – Buy One work and receive a 50% Discount on a digital download of its flex/standard counterpart!) Only good through Randall Standridge Music directly…if you have already purchased one of the versions, send us a receipt of the first purchase and still receive the 50% discount on the corresponding Flex/Standard download.

Digital Copy (PDF and Site License) – $50 .00
Printed Copy – $50.00
Available for online purchase and from Major Music Distributors, such as JW Pepper, Stantons, Penders, Music and Arts, Popplers, and others