Journey to America: An Immigrant's Story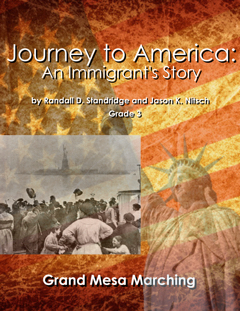 Journey to America: An Immigrant's Story
N/A
The American Dream is presented in this dynamic production by Randall Standridge and Jason Nitsch. Saint-Saens' Symphony No.3, America the Beautiful, original material, and narration chronicles the journey of one immigrant from his homeland, the moment when he first sees the Statue of Liberty, and then his celebration in the streets of America. Clever costuming and narration make this a truly memorable show for you, your students, and your audience.
Show will be delivered via .PDF download link to customer email address on order. The customer will also receive a link to a folder that contains all digital sound effects. The shows are typically available for immediate delivery from the publisher, regional exclusivity rules will apply. A contact name and email address are required when placing the order. Sound FX, when available, are included with download, as well as proof of licensure.
GRAND MESA MARCHING SHOWS INCLUDE:
-Regional Protection and Copyright Permissions/Licensing included
-Solos transcribed for all instruments
-Parts for 3, 4, and 5 Bass Drums
-PDFs, Sound FX included in download
-Finale and XML files available for customization (additional documentation required…but easy and free)
Full show is $1,000.00
Each individual movement is $350.00

Available from Randall Standridge Music or any music dealer that you support. Contact us!