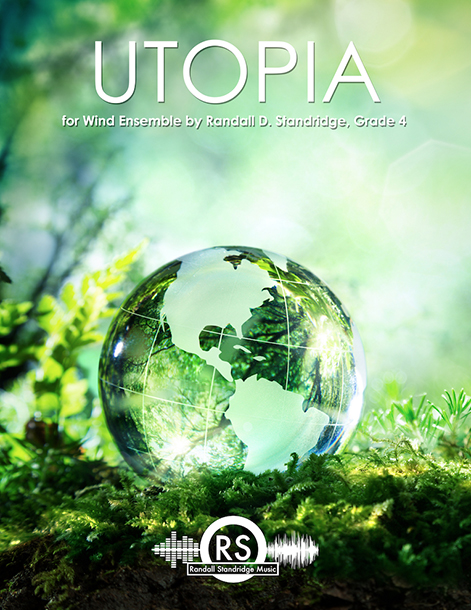 Utopia
As we discuss the content of the work, the composer wishes to note that while inspiration has been drawn from various musical cultures, they have been channeled through the composer's own aesthetic and are in no way intended to be viewed as authentic representations. Mr. Standridge encourages all musicians to seek out authentic examples of music from all parts of the Earth, and immerse themselves in the beautifully diverse world of music of which we are all a part.
The work begins with a fanfare, which serves as the "Earth Theme", and is stylized in western orchestral traditions. This gives way to a joyful celebration in 7-8 time that draws inspiration from Central America, South America, Africa, and Australian aboriginal customs. The "Earth Theme" is sounded again, but is informed by the larger world view. This is interrupted by a sudden shift to a 4/4 dance that combines elements of music from the Middle East, India, and Eastern Europe. This festivity gives way to a peaceful section inspired by the musical customs of Asia. The piece concludes with a joyous fanfare as our parade of humanity comes to a close.
We are all different and you know what? That's okay. Great, in fact.
One thing that has always made me want to scream is when people, in an effort to build bridges or make certain populations feel welcome, say "well, we're all the same!"
No. No we are NOT all the same. And again….that's okay. Great, in fact. Why do we HAVE to be the same? Why not celebrate and accept those very qualities that make us unique?
UTOPIA was commissioned by the High School Bands of Anoka-Hennepin ISD #11 in Minnesota (Andover HS, Anoka HS, Blaine HS, Champlin Park HS, and Coon Rapids HS). With this work, I drew inspiration from numerous musical customs throughout the world and channeled it through my own personal aesthetic to create a celebration of all of the faces and identities of humanity. While not every single culture is represented (this would be impossible and impractical), I tried to pull from every continent in some facet or another. The two largest emotions I wanted to convey were hope and joy, as different culture's sounds are juxtaposed together in harmonious ways. I am pleased with the final results, and hope you will be too. I want to especially thank Steve Lyons for spearheading this commission and being in constant contact with me, as well as for letting me express my creative vision.
In closing, I believe it is never too late for humanity to move closer to a more peaceful, joyful existence. We all have much in common, and we all have differences that define us and set us apart.
And that's okay.
Great, in fact.
Peace Love and Music.
Digital: $125.00
Physical: $125.00
SPECIAL SALE! – Buy One work and receive a 50% Discount on a digital download of it's flex/standard counterpart!) Only good through Randall Standridge Music directly…if you have already purchased one of the versions, send us a receipt of the first purchase and still receive the 50% discount on the corresponding Flex/Standard download.
Digital Copy (PDF and Site License) – $125.00
Printed Copy – $125.00
Available for online purchase and from Major Music Distributors, such as JW Pepper, Stantons, Penders, Music and Arts, Popplers, and others
Message for purchasing options: https://live-standridge.pantheonsite.io/contact/