Toboggan
About Toboggan
About the Composer:
JaRod Hall (b. 1991) is a Texas-native educator, performer, and composer. He holds a bachelor's degree in music education from the University of North Texas where he studied conducting with Nicholas Williams and Dennis Fisher. He is currently the director of bands at Hobby Middle School in San Antonio, Texas. JaRod's bands have received consistent sweepstakes awards at the Texas University Interscholastic League Concert and Sightreading Evaluations, as well as being recognized at the state level. In 2018 and 2019, JaRod's bands at Griffin Middle School earned the Citation of Excellence award, honoring the top two non-varsity bands in the state of Texas.
A passionate performer, JaRod has been a part of many ensembles such as the North Texas Wind Symphony and Symphonic Band, 3 O' Clock Lab Band, Carrollton Wind Symphony, Metropolitan Winds, and during his time in high school the Texas All-State Symphonic Band (2007-09) and Jazz Band (2010). He served as drum major for the 2013 Crossmen Drum and Bugle Corps, and was a member of the 2014 Disneyland All-American College Band. He is currently a freelance tubist and trombonist in the San Antonio area where he resides with his wife, Rachel.
As a composer, JaRod's compositions appear on the Texas Prescribed Music List, The J.W. Pepper "Editor's Choice" list, and the Bandworld Top 100 list. His composition Lost Woods Fantasy was showcased at the 73rd annual Midwest Clinic in Chicago by the Berkner High School Band composed of the first students JaRod taught as a band director in Richardson ISD. His composition "Silver Fanfare" was selected as a winner of the Dallas Winds Call for Fanfares and "Through the Storm" was selected as the 2021 Barbara Buehlman Prize winner for high school band – set to be featured at the 76th annual Midwest clinic in Chicago.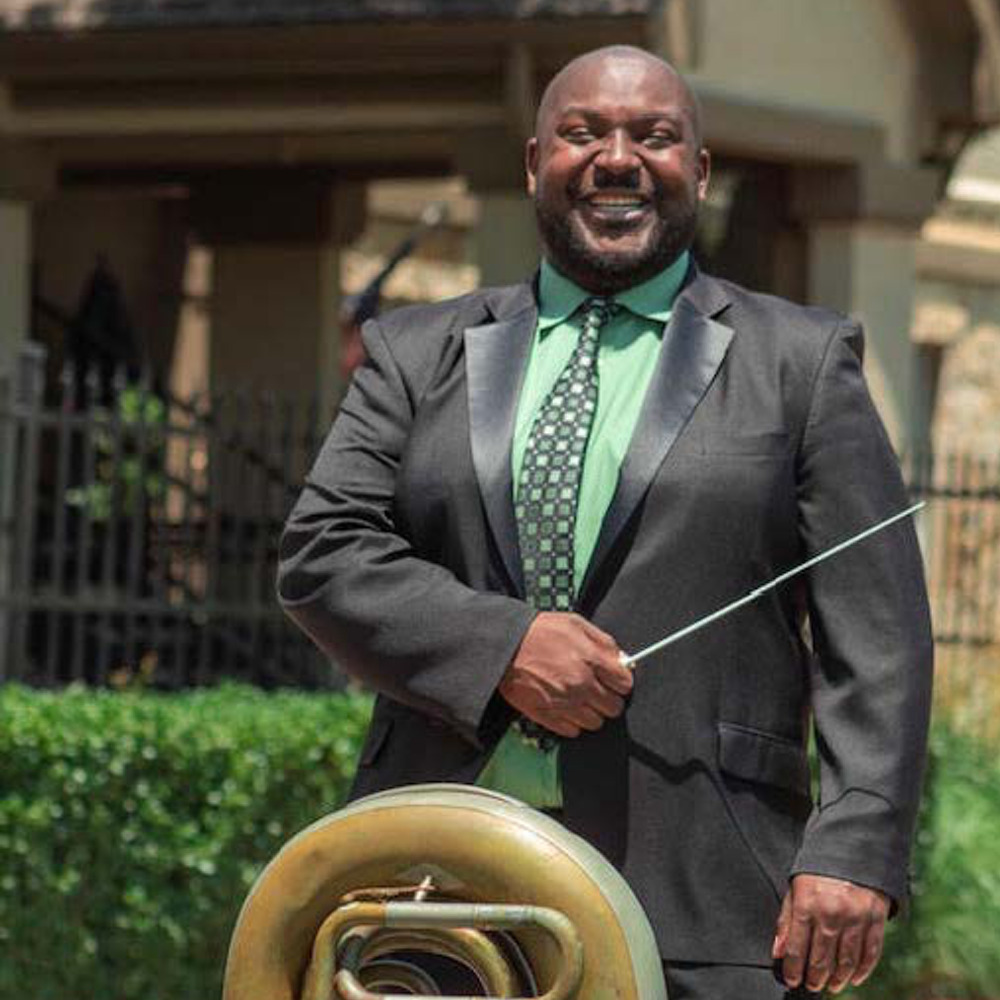 Program Notes
A toboggan is a long narrow sled used to slide downhill over snow or ice. The music tells the tale of an epic race down the biggest hill in the neighborhood. As the day begins, the first few snowflakes begin to fall, depicted by the solo bells that start the piece. As the flurries continue to fall, the snow builds, and the tempo picks up, kids begin pouring out of their homes to prepare for the race. While outside, they witness several snowball fights emerge around the neighborhood. The race begins atop a snow covered hill as the children speed toward the finish line. French horns pave the way through the middle section by illustrating the gorgeous landscape as the racers smoothly slide through the soft snow – a beautiful clear sky on the horizon. As the finish line pops into view, the racers frantically fly through the course, dodging stray snowballs overhead in an exciting finish. The perfect chilly concert opener or closer, I proudly present to you: Toboggan.
Digital: $75.00
Physical: $75.00
PRICING (AVAILABLE MID-SPRING 2022)
Digital Copy (PDF and Site License) – $75.00
Printed Copy – $75.00
Available for online purchase and from Major Music Distributors, such as JW Pepper, Stantons, Penders, Music and Arts, Popplers, and others
Message for purchasing options: https://live-standridge.pantheonsite.io/contact/