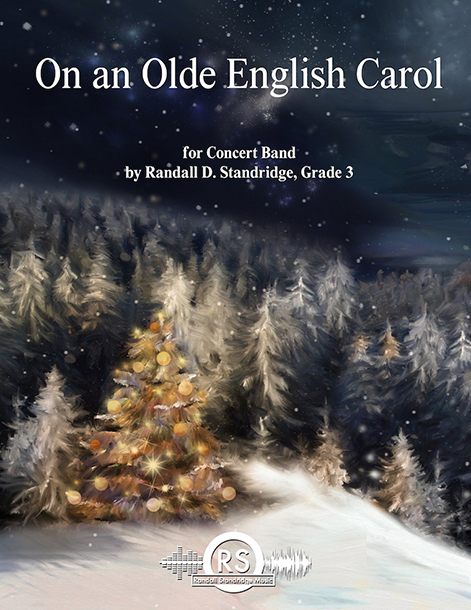 On an Olde English Carol
The Coventry Carol is one of those rare Christmas carols that is not full of light and hope. It is a dark lullabye, mourning the loss of the children who were put to death as King Herod attempted to find and kill the prophesied King of Israel. I have always found both the tale and the music to be haunting and chilling.
When setting this work, I had a few goals. First, I absolutely refused to use sleigh bells or anything "christmassy" as I felt that would cheapen the emotional impact of this terrible tale. Second, I wanted to create a christmas work that used very reserved orchestration to allow beautiful instrumental colors to shine through and to create a sense of isolation and tension, and allow the work to function in a festival/contest setting as well as a holiday concert. Lastly, I wished to create a work that would serve as an alternative to the typical "joyous" fare.
On an Olde English Carol is a setting of this beautiful, melancholy melody. The work begins with the voices of the mourners singing the souls of their children to sleep ("Lully, Lullah, Lully, Lullay"). The carol is then heard in various choirs. The grief of the parents culminates in a powerful statement at the climax of their work, before returning to a quiet whisper, though the work ends on a slight ray of hope that crescendos to the final release.
I hope you enjoy this work and find it suitable for both holiday concerts and festival performances.
Digital: $65.00
Physical: $65.00
SPECIAL SALE! – Buy One work and receive a 50% Discount on a digital download of it's flex/standard counterpart!) Only good through Randall Standridge Music directly…if you have already purchased one of the versions, send us a receipt of the first purchase and still receive the 50% discount on the corresponding Flex/Standard download.
Digital Copy (PDF and Site License) – $65.00
Printed Copy – $65.00
Available for online purchase and from Major Music Distributors, such as JW Pepper, Stantons, Penders, Music and Arts, Popplers, and others
Message for purchasing options: https://live-standridge.pantheonsite.io/contact/