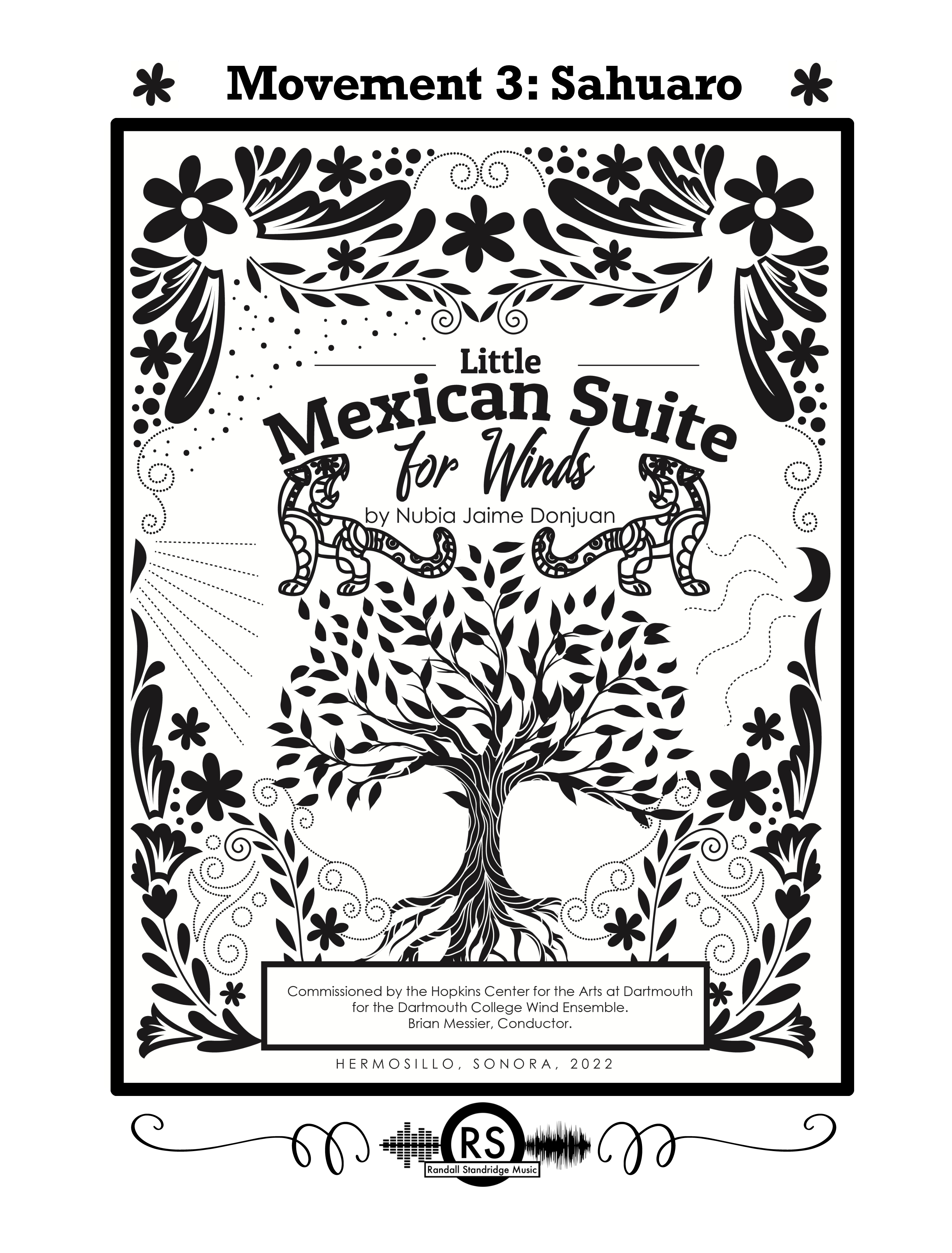 Little Mexican Suite 3: Sahuaro
N/A
Program Notes:
Ever since I was a child, I have been very interested in traditional Mexican Music. It has always captured my attention. I used to really get excited to hear a danzón or a son jarocho, and, fortunately, that interest has become a fundamental part of my artistic work. Most of my works contain a national, and often regional root. As is well-known, Mexican music has many branches, ranging from danzón to mariachi.
When Dr. Messier approached me, I was immediately overcome by the urge to compose a Suite for Symphonic Band inspired by popular Mexican genres. Almost naturally, the themes for each movement began to appear, and in short time I had developed them all. It was clear to me that each should be different. I did not want to repeat any genre. Music chooses the composer and takes its own course and as expected, these movements were connecting with each other, one appearing in another as reminiscences of the past, as light brushstrokes, on occasions hidden and at time very exposed.
Little Mexican Suite for Winds is based on traditional Mexican musical genres that are very popular in my country, and is inspired by species of Mexican trees that have each touched my life in some way and are embedded in my memory.
Ahuehuete: The giant. Inspired by the most emblematic tree in Santa María del Tule, in Oaxaca. Full of colors, textures and vitality, it denotes fascination with the famous Árbol del Tule.
Ayacahuite: The Mexican pine. Large and powerfully green, full of brown cones. It came to dance a soft waltz and to sing a "son jaliscience".
Sahuaro: The cactus. Very tall and full of water, with thorns and of unparalleled green. A forest of sahuaros lies midway between my city and the nearby bay and, since I was little, they have captured my attention. Without a doubt, this movement had to be a "danzón", my favorite genre of all time.
Ceiba: From a tropical climate, with a wide and rough trunk and peculiar, well-defined leaves. It totally inspired me to create a delicious Cha-Cha-Chá, which, with time, inevitably led me to the traditional Mambo.
Nubia Jaime- Donjuan.
Program Notes:
Desde niña me interesé mucho por la música tradicional mexicana, siempre llamó mi atención. Realmente podía emocionarme al escuchar un danzón o un son jarocho, y afortunadamente ese interés se ha convertido en parte fundamental de mi quehacer artístico.
La mayoría de mis obras contienen una raíz nacional, y en muchas ocasiones regional. Como es sabido, la música popular mexicana tiene muchas ramas, que van desde el danzón hasta el mariachi.
Cuando el Dr. Messier se acercó a mí, de inmediato tuve el ferviente deseo de componer una Suite para Banda Sinfónica inspirada en géneros populares mexicanos. De manera casi natural comenzaron a aparecer los temas de cada movimiento, y en poco tiempo logré desarrollarlos teniendo la clara idea de que todos debían ser diferentes entre sí, no quería repetir ningún género. La música escoge al compositor y toma su propio rumbo, y como era de esperarse estos movimientos fueron conectándose entre sí, apareciendo uno en el otro como reminiscencias de lo anterior, como leves pinceladas; en ocasiones escondidos y algunas veces muy expuestos.
"Little Mexican Suite for Winds" está basada en géneros populares y tradicionales de México, e inspirada árboles mexicanos que han impactado mi vida de alguna manera, a los que aferro mis recuerdos y que además son muy populares en mi país.
Ahuehuete: el gigante. Inspirado en el más emblemático árbol de Santa María del Tule, en Oaxaca. Lleno de colores, texturas y dinámicas, denota una fascinación por el afamado Árbol del Tule.
Ayacahuite: el pino mexicano. Grande, de un verde más que poderoso, lleno de conos cafés, vino a bailar un tierno vals y a cantar un "son jalisciense".
Sahuaro: el cactus. Muy alto y lleno de agua, con espinas y de un color verde inigualable. Muy cerca de mi ciudad hay una bahía, y a la mitad del camino hay un bosque de sahuaros que desde pequeña ha llamado mi atención. Sin duda, este movimiento tenía que ser un danzón, mi género favorito de todos los tiempos.
Ceiba: con un tronco ancho y rugoso, con sus hojas peculiarmente definidas y de clima tropical, me inspiró totalmente a un delicioso Cha-Cha-Chá, que con el paso del tiempo y de las modulaciones me llevó inevitable y tradicionalmente al Mambo.
Nubia Jaime Donjuan
All Randall Standridge Music Products feature reproducible parts and digital sharing streaming rights
Digital: $85.00
Physical: $85.00
Pricing: $85.00 (Available in Physical and Digital Formats)