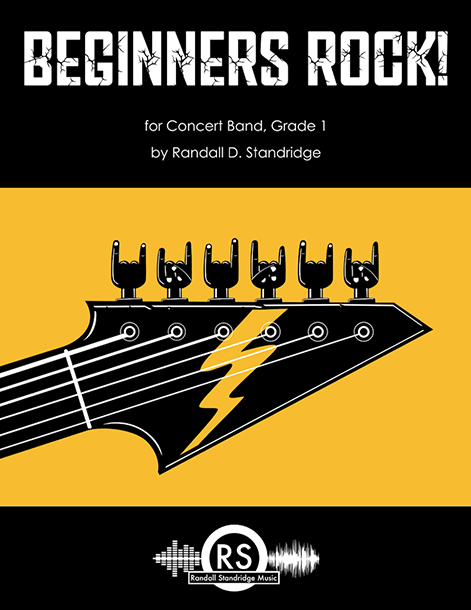 Beginners Rock
I have been a full time composer so long that sometimes, I think, people forget that I started my career as an educator. I was a band director for twelve years in Harrisburg, AR, and when I say I was a band director, what I actually mean is I was THE band director (for eight of those years). I taught from 5th grade recorder band all the way up through my senior band. However, without exception, my favorite classes of the day were always my beginning band classes. Teaching them their first songs and watching their excitement grow as their abilities blossomed was the highlight of my career, and a facet of it that I miss very much I wrote the first draft of this piece when I was teaching them as a kind of "end of the year" showcase. It never failed to bring the house down and to leave the students excited about what they will learn next. I hope it does the same for yours.
Remember, no matter how bad your day is, you get the opportunity to make music with the coolest kids in the school.
Beginners Rock!
Peace, Love, and Music.
Educational goals of the work:
-Rhythmic stability
-Articulation differences between: Tenuto, Accents, Staccatos
-Basic rhythms including: Dotted Halfs, Halfs, Quarters, Dotted Quarter/Eighths, Eighths
-Repeats: Navigating both basic repeats and a D.C. al Fine.
Additional Educational Resources:
Beginners Rock Supplementary Worksheet, Created by Amanda Hertel
Rehearsal suggestions
-The tempo of this work is critical to its character. When planning your preparation, make sure to allow time for proper technical development to achieve the written tempos, lest the work come off as "boring."
-The percussion should be on the slightly louder side of the balance spectrum. Please do not "hide" them. However, they should not cover the ensemble.
-Please feel free to add choreography and standing/sitting as appropriate. Above all….HAVE FUN!
Published by Randall Standridge Music, LLC
Digital: $40.00
Physical: $45.00
SPECIAL SALE! – Buy One work and receive a 50% Discount on a digital download of it's flex/standard counterpart!) Only good through Randall Standridge Music directly…if you have already purchased one of the versions, send us a receipt of the first purchase and still receive the 50% discount on the corresponding Flex/Standard download.
Digital Copy (PDF and Site License) – $40 .00
Printed Copy (Price coming soon) – $45.00
Available for online purchase and from Major Music Distributors
Message for purchasing options: https://live-standridge.pantheonsite.io/contact/